20-11-2014 Announcing the new
UKRAINIAN POWERLIFTING ASSOCIATION
RPS Director, Vorobey Bogdan Yurevich


CRIMEAN POWERLIFTING ASSOCIATION
is the official Revolution Powerlifting Syndicate
affiliates in Crimea.

2013 Contests
Ukrainian Bench Press Championships
April 13, 2013
Ukraine, Simferopol, Victory Avenue 2111
Meet Results



February 8 - Kyiv - Dnepr Cup Bench Press Bench, Press and extreme February 15 - Novograd -Volyn Zvyagel Cup - Bench Press and deadlift
March 1 - Zhitomir - II Open Polesye Bench Press and Deadlift Cup
29-30 March - Kiev - Ukraine Championship, Powerlifting , Bench Press and deadlift UPA.
April - Simferopol - Mayor's Cup Bench Press date specified
May - Kiev - Open European Championship RPS- 2014
May 24 - Zhytomyr - Championship Zhytomyr Region, Powerlifting and Bench Press
27-30 June - Gurzuf - Tavrika Cup Bench Press and deadlift
October - Cup of Ukraine UPA place and date specified
November - Zhytomyr - Open Cup Zhytomyr region, Bench Press & deadlift
December - Kiev - Kyiv Open Cup

2013 Contests

February 23, 2013
UPA Open Polesye Bench Press and Deadlift Cup
Ukraine, Zhitomir. str. Borodia, 60 AK "Maximus Gymб╩.
Meet Results

June 28-30, 2013 - Meet Results
International tournament Bench Press  Tavrica Cup
March 4, 2013: Announcing the addition of the
ALL AFRICA GLOBAL-WORLD POWERLIFTING
& BODYBUILDING ORGANIZATION (AGWO)
as the official affiliate of Revolution Powerlifting Syndicate
for the African Countries and Organizations
who are associates of the AGWO.
Nigerian International Powerlifting Association
South Africa Powerlifting Congress Organization
United Namibia Powerlifting Organization
Congress of Angola Powerlifting Association
Zambia State Union of Amalgamated Powerlifters
Cameroonian International Bodybuilding and Powerlifting Congress
Gambia Professional Powerlifters Organization
Algeria Powerlifting and Strongmen Association
Egyptian International Powerlifting Organization Congress
Professional and Amateur Powerlifting Organization Congress Tunisia
Togo Powerlifting Developmental Association
Senegalese Bodybuilding and Powerlifting Progressive Organization
Kenya Powerlifting Intersports Related Congress
Gabon Powerlifting and Bodybuilding Mission Organization
Powerlifting, Bodybuilding/Strongmen Congress Of Dubai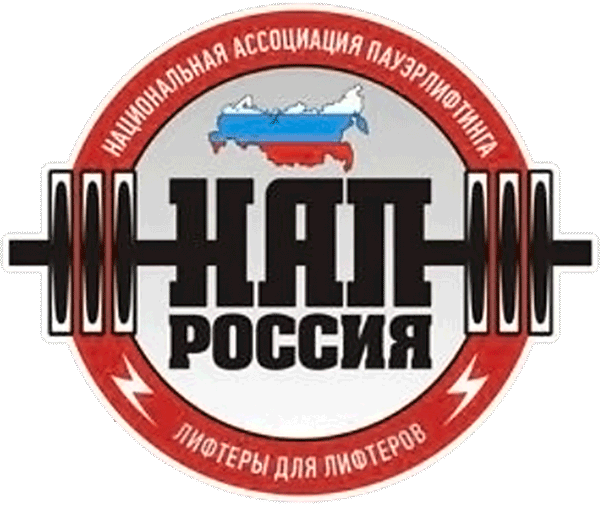 NPA/RPS World Cup 2013 - Meet Results
Sochi, Russia.  May 29th - June 2nd

2012 RPS - Golden Tiger VI - Meet Results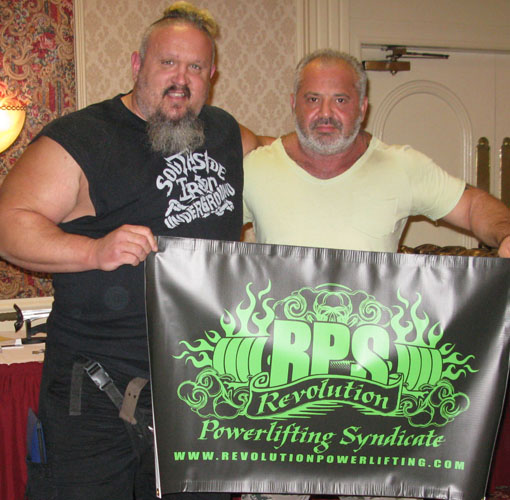 Gene Rychlak, Jr, President, RPS and Andrei Paley, President, NPAR @ Supreme Iron Warrior, Sept 2012
Revolution Powerlifting Syndicate acknowledges the
NATIONAL POWERLIFTING ASSOCIATION OF RUSSIA
and their below listed officers as sole official affiliate in the
Russian Federation and its territories.
Andrew Repnitsyn, President
Andrey Paley, Senior Delegate
Ilya Kokorev, Vice-president
2014 NAP Competition Calendar
Meets Eligible for World Record Status
January 25, Tugulym
Open East-area Championship of Cossack societies
February 8, Kamensk-Uralsky
Open Kamensk Championship, dedicated to the 25th anniversary of the Soviet withdrawal from Afghanistan.
February 9, Saratov
Bench Press Tournament among inmates in prison
February 15-16, Novosibirsk
Open Novosibirsk Championship among Amateur
February 15, Pishma
Open Orenburg Cossack Army Championship
February 16, Ekaterinburg
Open Ekaterinburg Benchpress Championship.
February 22, Ekaterinburg
Open Sverdlovsk area Benchpress Championship among Masters.
On February 23, Sysert
Multi-tournament "STONE BELT" (Benchpress, Mas-wrestling, Sambo)
February 23, Asbest
Open Asbest Powerlifting Championship, on the Day of Defenders of the Motherland
February 23, Kamishlov
Open Kamishlov Benchpress Championship
February 23, Berezniky
Open Berezniky Benchpress Championship
February 23, Ekaterinburg
Open Ekaterinburk Benchpress Cup
February 29 - March 1, Columbus, Оhio, USA.
"ARNOLD SPORTS FESTIVAL 2014" - XPC FINAL
March 1-2, Ekaterinburg
Open Ekaterinburg Powerlifting Championship for the Disabled
March 8, Kamensk-Uralskiy
Show tournament Benchpress "UrFO CUP"
March 15, Krasnoufimsk
Open Krasnoufimsk powerlifting Championship
March 28-30, Saratov
Open Russia Championship
April 5-6, Tel-Aviv, Israel
Multi-tournament "SAMSON" (Powerlifting, Armwrestling).
April 5, Tyumen
All-Russian tournament Bench Press
April 12, Ufa
Open East-Europe Benchpress Championship
PRIZE MONEY U.S. $ 15,000
April 13, Dvurechensk
Open Sysertskiy Borough Benchpress Championship on the Day of Cosmonautics
April 16-19, Ekaterinburg
NPA Open Europe Championship
April 26, Ekaterinburg
Ordzhonikidze district Benhpress Championship.
April 27, Nadym
Open Nadym Benchpress Championship
May 3, Talitsa
Open Talitsa Borough Powerlifting Championship
May 4, Kamishlov
Open Kamishlov Powerlifting Championship
May 8-11, Berdsk
NPA Open World CUP Powerlifting "SIBERIAN CHALLENGE"
May 9, Asbest
Open Asbest Benchpress Championship, dedicated to the Viktory Day
May 9, Berezniky
Open Berezniky Powerlifting Championship.
May 11, Saratov
All-Russian tournament Bench Press "ZHIMOVAYA MAYOVKA"
May 16-18, Reftinsky
Open Powerlifting Championship of the Ural Federal District
May 17-18, Ekaterinburg
Sverdlovsk area Powerlifting Championship, among the Disabled
May 27-31, Sochi
Sochi-2014. Open World Cup Powerlifting "OLYMPIA"
June 1, Ekaterinburg
DUSH "Viktoria" Benchpress Championship, among the Disabled.
June 14, Sukhoy Log
Open Sukhoy Log Borough Powerlifting Championship
June 21, Tugulym
Championship junior sports school "Ermak" Powerlifting
August 8-10, Chelyabinsk
Open Eurasia Powerlifting Championship
August 30, Tyumen
Open Tyumen Benchpress Cup
October 3-5, Ekaterinburg
Open World Powerlifting Championship "GOLDEN TIGER CLASSIC - VIII"
October 17-19, Berdsk
Open Novosibirsk area Powerlifting Championship.
October 20, Berezniky
Open Berezniky Benchpress Cup.
October 25
Russian athletic benchpress marathon "Dmitriev Day". First stage - Held simultaneously in 150 gyms
October 27 – on November 2, Verkhnaya Pishma
Open Russia Championship, among the disabled
November 2, Ekaterinburg
FINAL Russian athletic benchpress marathon "Dmitriev Day
November 4, Sysert
Open Sysert Borough benchpress Cup, dedicated to the Day of National Unity
November 8-9, Saratov
Open Volga Federal District Powerlifting Championship
November 15, Nadym
Tournament Master Bench Press
November 22-23, Tel-Aviv Israel
Open Europe Powerlifting Cup.
November 22, Perm
Open Perm area Championship
November 28-30, Tyumen
Open Eurasian Benchpress and Deadlift Cup
December 3-7, Berdsk
Tournament "STEEL ARENA – IV"
December 6, Karpinsk
Open Karpinsk Benchpress Cup
December 7, Talitsa
Open Talitsa Borough Powerlifting Cup
December 13-15, Balashov
Open Saratov area Powerlifting Championship
December 14, Ekaterinburg
Open Ordzhonikidze district Benchpress Cup
December 20, Sukhoy Log
Open Sukhoy Log Borough Benchpress Cup
December 21, Kamishlov
Open Kamishlov Powerlifting Cup
December 27, Berezniki
Open Berezniki Powerlifting Cup
December 28, Krasnoufimsk
Ney Year Open Krasnoufimsk Borough Benchpress Cup